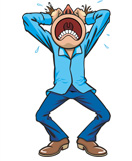 To: TV sports producers and directors
From: The Whiner
Re: Doing Your Job
Stop with the artistic camera angles and positioning already. We just want to watch the game.
We don't want to watch basketball from a camera suspended over the hoop. If you were at a game and someone said "Hey – I'll trade you my baseline seats, for your seats at halfcourt" you'd tell him to get lost. So why the F do you think we want to watch from your baseline camera? (The same goes for the Fox NFL kickoff coverage from the end zone camera.)
You're producing coverage of a TV sports event – not putting together an entry for the Cannes Film Festival. Knock it off.