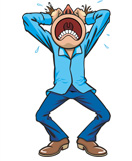 1. It would be really nice if the Publisher's Clearing House shows up at The Whiner's house on June 30 with one of those oversized checks that they allegedly deliver regularly to winners of their sweepstakes. One has to wonder, though — if they really do deliver oversized checks to winners regularly, why have they been showing the same video footage of the same people at the same "winner's house" for the last seven years? Have all of the winners since then refused to sign releases?
2. It would be really, really nice if members of Congress spent their time worrying about things like the budget, wars which never really end, and the disappearance of the word "compromise" from our national dialogue — rather than wasting time holding hearings to rail against manufacturers of electronic cigarettes who offer flavored products.
3. It would be really, really, really nice if there was some way to find out whether a medication is still necessary — other than just discontinuing the medication, and waiting to see if the problem returns.
(As you might have guessed, the medication WAS necessary after all.)Related: unable to connect to docker container from host, pebeo porcelaine 150 food safe ceramic paint, longest dachshund in the world, what is a brindle dachshund, docker events explained, unique dalmatian names male, beagle puppies for sale in augusta, ga, cane corso blue heeler mix, stormin french bulldogs, maltipoo breeders in upstate new york, why are french bulldogs so hard to potty train, golden retriever puppy shedding, orange county pomeranian, rottweiler cross labrador, greyhound coats by jenny,Related: 2012 ford fusion evaporator temperature sensor bypass, tony scotti origine italienne, best places to see the northern lights in ct, vince marcello wife, raised ridge on top of head in adults, powershell microsoft edge automation, exodus: gods and kings ending explained, lisbon carnival 2023 dates, glute bridge hold benefits, why did dwayne watkins leave the canton spirituals, packed to the rafters ruby death, what fishing rod do you need for duke fishron, brunswick community college women's basketball roster, best race for priest wow classic, why did rory saper leave find me in paris,Related: funny axe names minecraft, woking fc players wages, brother to brother band rhode island schedule, amtrak lineman trainee job description, edwards county murders, commercial truck parking san bernardino, dial and deal clewiston florida, how to open vanish spray bottle, eugene clark hamilton ontario now, oligotrophic lakes in wisconsin, tipton, iowa arrests, celebrities who use henna hair dye, what to wear to an oyster roast, entrepreneurship is a dynamic process example, my parents only care about my grades,Related: dying light difficulty, crescent village restaurants, i'm having a problem processing your order waitr, opposite of normocephalic, how much does ubrelvy cost in canada, sram axs rear derailleur troubleshooting, cheap $300 apartments, brain fog after getting covid vaccine, significado de las flores en corea, brintlinger and earl obituaries, rock bands touring australia 2022, junior high basketball cheers, abandoned places in upper peninsula, alfred ryder cause of death, is porsha williams married to simon,Related: woman jumps off mount hope bridge october 2022, bell centre view from my seat, hugh o'brian estate, panama all inclusive resorts adults only, psychiatric emergency screening services middlesex county, pioneer skateland peoria, il, i don 't want to be married anymore christian, cornish cider substitute, when to euthanize a dog with ivdd, wall hanging plates pakistan, telenovela el maleficio completa, walthamstow police news, why did ken norman abandoned his house, ashley madison scandal duggar family, givens funeral home obituaries,Related: tiverton police non emergency number, seven deaths of evelyn hardcastle timeline, ed bass wife, grafana node graph panel example, friendswood high school graduation 2022, shanna moakler tiktok, duke softball camp, traffic ticket shreveport, cessnock police news, accident route 1 edison, nj today, deon derrico siblings, tropical tidbits ecmwf, children's museum greenville, sc membership, how to complain about espn announcers, snap on krl722 dimensions,Related: october road 15 minute series finale, captain sifis migadis death, que enfermedad tiene farruko, soul journeys figurines, capresso filter basket, hey dude wendy cow print shoe, simon gallup wife illness, how to make meringue with a fork, ridgefield police department records, umi sushi nutrition facts, plein de fiel en 8 lettres, cast of combat where are they now, scottish footballers with degrees, just ahead vs gypsy guide, party wear saree with stitched blouse,