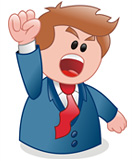 I paid my cable bill today, and as I usually do, I put my account number on the check. But this time, something occurred to me: my account number has 16 digits. SIXTEEN.
There are approximately 300,000,000 people in the US. I would venture to guess that not all of them are Time Warner customers. But even if they are – only using TEN digits would give every single American their own account number, with about 700 million accounts left over for future population growth.
Why do I have to write 16-digits on my check – punch 16 digits into my phone keypad when I call for customer service – repeat 16-digits to the person who comes on the phone AFTER I've punched the 16 digits into the phone keypad?
Speak up. Help STOP account number inflation before it gets even more out of hand.