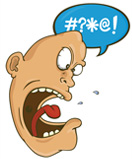 When Henny Youngman used to say stuff like that, people would laugh – realizing that it was a joke.
Now, they just follow instructions without question, and end up suffering the consequences.
Today's specifics? The automated refill system at my local Rite Aid Pharmacy (although I'm sure the same thing happens at almost every other pharmacy in America in 2011).
Start of the month – time to call in the prescriptions.
10 am. My wife, like a good do-bee, "presses '1' for the automated refill system." Entering each of her prescriptions takes forever.
2pm. The Whiner ignores the automated refill system, "presses '3' to speak with someone in the pharmacy," ignores their exaggerated groan when he tells them "I have six prescriptions to refill," and is done in less than a minute.
3:30pm The Whiner arrives at Rite Aid.
Guess whose prescriptions are ready for pickup – and whose are still waiting to be filled?
Has anyone ever found an automated system that saves the customer time?
Didn't think so.