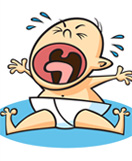 The Whiner understands that humans seek challenges.
The Whiner understands that in this digital age, "mischievous" can quickly become "nasty" or even "malevolent."
The Whiner also understands that some people are just naturally bad people.
What The Whiner does not understand — is why some people would create a virus/trojan/rootkit package so virulent and evil that its only real purpose is to destroy the hard drives of people who just happen to "be there."
And not being able to comprehend the thought process behind something like that is probably a good thing.
At any rate, The Whiner is back – and so is his computer.