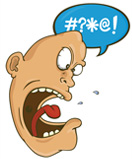 No, I am NOT watching ESPN on ABC.
I am watching ABC on ABC.
ESPN is a cable outlet. It is NOT a program.
Branding and synergy are desirable at a corporate level. But Disney has NO idea when to stop. ESPN does not need superfluous branding.
If Disney wants to pull the trigger and make ABC a broadcast outlet for ESPN, it would be an interesting gamble. But if that's the plan, do it. Don't bother with the moronic "ESPN on ABC" crap. It's not only stupid, it's disrespectful to the ONLY division that kept ABC afloat for decades, ABC Sports.
(Should I still be looking for stuff on the "Go Network?" How did that purchase and branding exercise work out for you?)